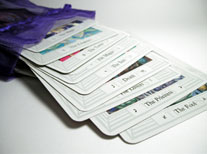 Cecilia Cartwright - Medium
Mediumship
Mediumship is the ability to talk to the spirits of people who have passed, and dates back to early human history.
A Medium mediates conversations with spirit voices, and can relay messages to those wishing to contact them.
Cecilia's Experience
I can help you communicate with loved ones who have passed over, and much of my work is dedicated to this practice. I have appeared on television and live radio shows.
All my work is taped, and a copy of the tape is given to each client to keep.
Getting in touch
I have been working with many of my clients fot a number of years, and enjoy helping them to contact their passed relatives.
I am available for meetings in person or over the phone. Please get in touch using my contact page, or use the bookings page to organise some time with me.